One benefit of having the iPhone is that you are sure your information is highly secure. You've got an encryption key (passcode) set up. If someone can gain access to your device, they could use it only after the data is erased. Hence your private pictures and data remain perfectly safe. You might want to delete all your personal information from your phone before selling it or transferring it to another user. But what if you forget your password? That could be pretty frustrating, but no worries, as you can easily factory reset iPhone without password. You will learn about all the possible solutions to this problem later in the article. But first, let's look at some of the reasons anyone needs to do a factory reset on their iPhone.
Possible Reasons for Doing a Reset
You might want to delete all of your personal information from the iPhone before selling it or giving it to a different user. In this situation, you'll need to go for the tips section in this article.
The factory reset procedure is an essential method of troubleshooting to fix iPhone problems, a black image of a death screen, recovery mode, or a device acting oddly.
It is essential to wipe all iPhone settings and contents before backing up the data using iCloud backup.
If your phone screen is locked, restore your iPhone via iTunes or unlock it using AceThinker iPhone Unlocker. After that, you'll be able to unlock your iPhone will be released; however, both can cause a loss of data.
If you've lost your password, you can also discover how to wipe iPhone without passcode quickly before a factory reset.
Suppose you now have more information about the background. In that case, we'd like to put you in an improved position to determine the best way to proceed should you're required to know how to factory reset iPhone without an Apple ID password.
How to Factory Reset iPhone without Password using iTunes?
The next step you can perform is factory reset iPhone without passcode through iTunes. But, before performing this type of reset using iTunes, be sure you've successfully connected your iOS device to iTunes previously or, at a minimum, created backups on iTunes. If you don't, you'll lose additional data if you don't create a backup.
Create Backups using iTunes.
Connect the iOS device with the USB cable.
Launch iTunes.
Click and locate the iOS device once it is on iTunes.
Click on Restore iPhone Under the summary pane.
Confirm your request by clicking on Restore.
Factory Reset Your iPhone without Password via iCloud
You can also erase iPhone without password. Be aware that the word "password" refers to the iPhone screen lock password rather than the iCloud password. This method requires you to have activated Find My iPhone on your device, and y ou also have to remember your Apple ID password. If not, you cannot use the other methods in this article.
Visit iCloud within your web browser and log in using your Apple Account and Password details.
Search for My iPhone and then click "All Devices" at the top of the browser window. The iPhone you're trying to reset will be identified. Click it and then click on the "Erase iPhone" option. This will erase the iPhone passcode as well as all the data.
One-Click Solution to Factory Reset iPhone without Password
If all of the above solutions aren't working to solve factory reset locked iPhone. In that case, you can use AceThinker iPhone Unlocker as the quickest and most efficient method to reset your factory settings on your iPhone without iTunes or a password. You can utilize the Wipe password function to solve screen lock problems. Before you begin, you should be aware that all your information will be erased when you use it to delete all screen lock passwords. Additionally, all your iOS gadgets will automatically be updated to the latest version of iOS immediately.
Salient Features:
Compatible with all iOS devices, including the most recent iPhone 13, iPhone 12, iPhone 11, and X.
Solves various iTunes error codes by unlocking your device in all scenarios.
Also, help you remove Apple ID and Screen Time passcode, and that too with no data loss.
100% free from bugs and crashes.
Steps to factory reset iPhone when locked?
Step 1

Wipe Passcode and Connect iOS

Open the iPhone Unlocker of AceThinker, then choose Wipe Password. Afterward, select Start to begin. Then use a USB cable to join your device to your computer.
Step 2

Confirm iOS Information and Download the Firmware

Once your iPhone device has been successfully recognized and connected, the information is flashed on the screen. Verify that it's right before pressing on it to begin downloading the compatible firmware. As a general rule, the firmware download can take time since the firmware is large.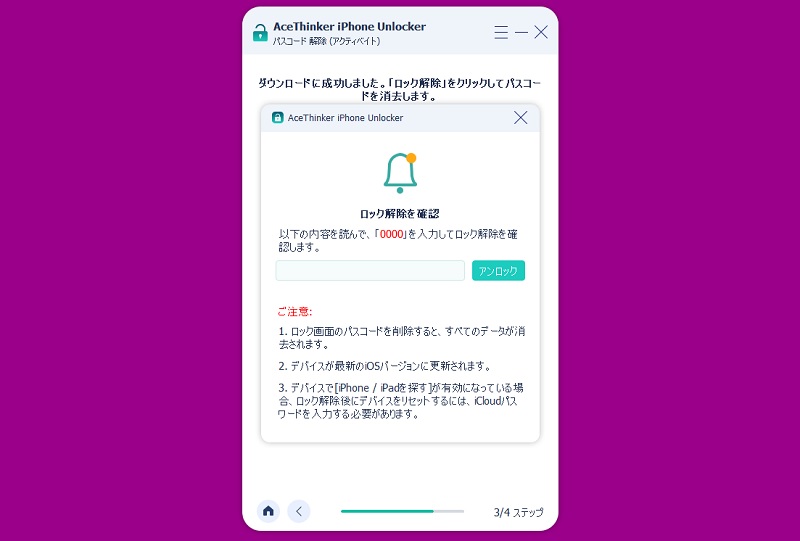 Step 3

Unlock iPhone Password

Once the firmware has been downloaded, initiate the unlocking process by clicking on Unlock. You will be asked to type in "0000" as a confirmation. After a short time, the security code of the phone's lock screen will then be deleted.
Further Reading: Hard Resetting Your iPhone via Settings
The methods discussed above can help you reset your factory settings on your iPhone using no password. Suppose you did not forget your iPhone passwords. You can still access all the device's features, including factory reset. Here's how you can do it via the iPhone settings if you have the passwords.
User Guide:
Navigate to iPhone Settings app > General > Reset.
Then tick Erase All Contents and Settings.
After resetting your device, it will be possible to restore from your iCloud backup if you have an iCloud backup.
The Bottom Line
We hope you are clear now and know how to factory reset iPhone without password. We recommend using AceThinker Phone Unlocker, as it is the most effective method.